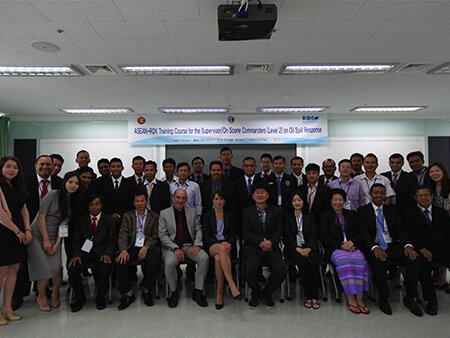 Pauline Marchand, Senior Claims Coordinator and Dr Franck Laruelle, Technical Team Manager participated in an IMO Level 2 Training Course on Oil Spill Response for Supervisors and On-Scene Commanders in Busan, Republic of Korea from 23rd to 27th May 2016. The event was kindly hosted by KOEM (Korea Marine Environment Management Corporation) and was attended by delegates from ASEAN Member States including Brunei, Cambodia, Indonesia, Laos, Malaysia, Myanmar, Philippines, Singapore, Thailand and Vietnam.
Franck and Pauline gave a series of presentations covering various aspects of oil spill response, including at-sea response, shoreline clean-up, termination of response, spill management and organisation as well as liability and compensation. Participants were given the opportunity to test their knowledge gained in the theoretical session during a table-top exercise coordinated by KOEM.
All participants were taken to one of KOEM's stockpiles located in Masan in the province of South Gyeongsang. The training course also involved a visit to KOEM's training facility in Busan where practical demonstrations of oil spill response equipment were held.
Categories: Asia, Training & Education