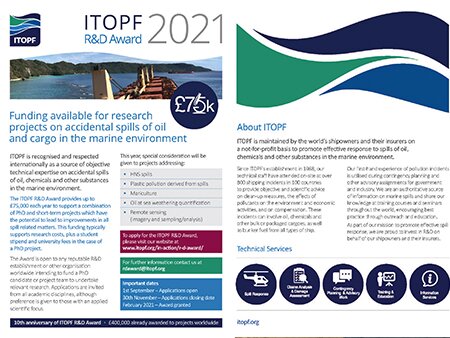 The ITOPF R&D Award provides up to £75,000 each year to fund R&D projects to improve our knowledge and understanding of issues related to accidental marine pollution from ships. The award is intended to support a combination of PhD projects and/or short-term projects which have the potential to lead to improvements in all spill related matters. This funding typically supports research costs, plus a student stipend and university fees in the case of a PhD project.
The purpose of this initiative is to facilitate and encourage organisations worldwide to develop ideas that can potentially provide solutions to some of the challenges faced by the spill response community.
For more information on the 2021 ITOPF R&D Award, please see our flyer and visit our website at: http://www.itopf.org/in-action/r-d-award/
The application process is open from 1st September 2020 to 30th November 2020
The 2021 Award winner will be announced in February 2021
If you have any questions regarding the Award or if you are unsure whether your project will qualify, please don't hesitate to contact us at any time, either at rdaward@itopf.org or duartesoares@itopf.org.