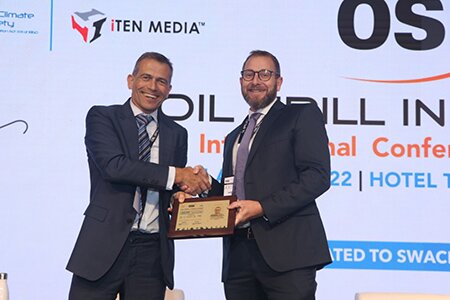 Oil Spill India (OSI 2022) took place at the Hotel Taj, New Delhi for its sixth iteration this year. ITOPF was in attendance with Richard Johnson, Technical Director featuring as an 'Esteemed Speaker,' giving insight on developments in maritime casualty response in a global, regional and national setting.
Richard was joined by David Campion, Senior Technical Adviser, where he spoke during the salvage session on the second day, presenting on the 'Synergy of Salvage and Pollution Response'.
With more than 400 attendees from 200 organisations and 60 speakers, OSI 2022 hosted discussions on oil spill prevention, planning, and response while also being a global forum for governments, policy makers, response organisations, research organisations, and equipment suppliers.
Richard Johnson, Technical Director said: "It was an absolute pleasure to return to OSI as a panellist, speaker, and chair, for what was an excellent conference and exhibition.
"As more in-person events are returning, the importance of coming together as a response community, including both governmental and industry entities, is made clear by the quality of exchanges and through the crucial relationships with stakeholders that were forged or fostered."