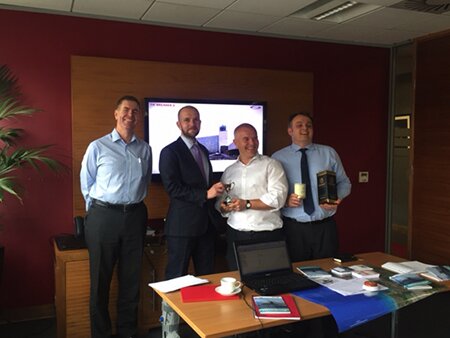 ITOPF was invited by the North of England P&I Association (NEPIA) to deliver a seminar at the company headquarters in Newcastle, UK. The seminar's participants included NEPIA employees with a broad range of experience in casualty and environmental claims.
The day began with a presentation on ITOPF's role in spill response by Richard Johnson, followed by a talk on ITOPF's role in claims assessment by Iain Harrison. Recent case study examples were provided by Mark Whittington and Nicola Beer to demonstrate ITOPF's on-site role in incidents with specific relevance to the Club.
The presentations were followed by a desktop spill response and claims exercise which involved the application of a range of response resources to an example spill scenario. The participants, who were divided into three teams, were then asked to generate clean-up claims and provide a subsequent claim assessment, prompting interesting debate and discussion.
Picture shows Iain Harrison with the winning team
Category: Training & Education