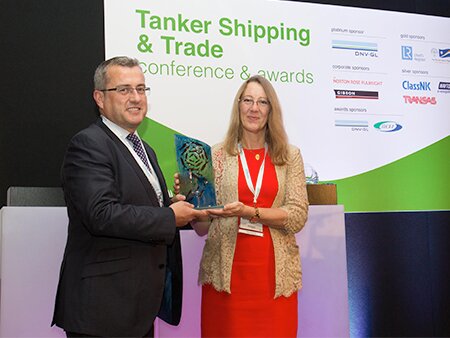 The first Environmental Award to be presented at the Riviera Maritime Media's Tanker Shipping & Trade Conference was sponsored by ITOPF and awarded to Thordon Bearings Inc. for its COMPAC system. Dr Karen Purnell presented the award to George Morrison, Thordon Bearings' Regional Manager West Europe and Africa (pictured), at the awards ceremony on 19th November, rounding off the two day Tanker Shipping and Trade Conference & Awards.
COMPAC prevents the seepage of millions of litres of oil into the world's oceans and reduces ship operating costs associated with aft seals and lubricating oil.
Dr Karen Purnell who sat on the award judging panel, alongside representatives from INTERTANKO, IACS, UK MCA and Scorpio Tankers, said "It is a challenge to identify opportunities that assist shipowners in meeting environmental standards cost-effectively and that don't end up creating new environmental problems. The COMPAC system meets this challenge and it is for that reason - and the system's simplicity - that we were able to present Thordon Bearings with the award."
Other award recipients included ITOPF's Chairman and CEO of Euronav, Paddy Rodgers, who won the Industry Leader Award.
After the awards ceremony, the entire gathering mingled at a celebratory reception sponsored by ITOPF.
(Photo courtesy of Tanker Shipping & Trade)
Categories: Europe, Training & Education