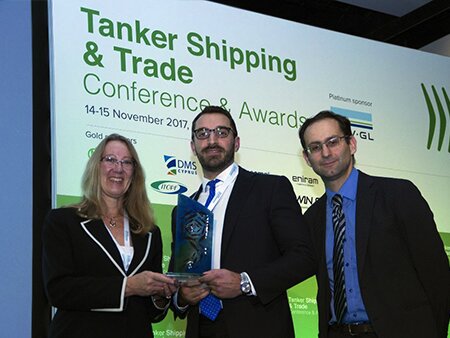 The winner of this year's Tanker Shipping & Trade Environmental Award sponsored by ITOPF was GAC EnvironHull for its environmentally-friendly 'HullWiper'.
Dr Karen Purnell presented the award to Andrew Cole (pictured centre with Dr Karen Purnell and Edwin Lampert, Conference Chairman) at a ceremony on 15th November, which rounded off the two day Tanker Shipping and Trade Conference organised by Riviera Maritime Media.
HullWiper is a diver- and brush-free hull cleaning Remotely Operated Vehicle (ROV) which was launched in 2013. It delivers a foul-free hull with little or no down-time, whilst preserving both the delicate marine eco-system and human life. It uses water jets to remove fouling rather than brushes or other abrasives which can damage expensive coatings and collects debris from the operation for environmentally approved disposal on land, thus reducing the risk of cross-pollination of waters with alien species.
Dr Purnell who sat on the awards advisory panel commended the HullWiper system as an innovative, environmentally-friendly and efficient hull cleaning solution.