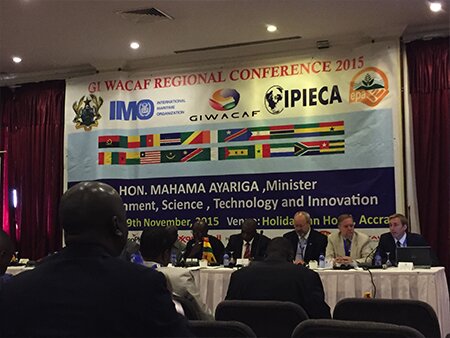 The Global Initiative for West, Central and Southern Africa (GI WACAF Project) is a partnership between the IMO and IPIECA to strengthen the national oil spill response capability in 22 West, Central and Southern African countries.
ITOPF supported the GI WACAF in the regional conference organised in Accra, Ghana, from 16-19 November. Delegates from 20 West, Central and Southern African countries were present.
Dr Franck Laruelle and Anne Réglain facilitated a table top exercise as well as round table discussions on International cooperation, legislation and shoreline clean-up. ITOPF also gave presentations on wildlife response, aerial surveillance and a case study to illustrate waste management and shoreline clean-up.
The countries represented during the conference provided an update on their national capabilities as well as the priority areas of work that needed to be addressed. Recommendations for the next biennium 2016-2017 and next steps for the GI WACAF Project were also developed. ITOPF will continue to support the GI WACAF Project and the national authorities to strengthen their response capability.
Categories: Africa, Training & Education