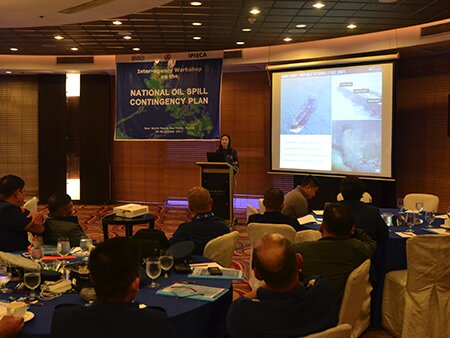 ITOPF supported a workshop in the Philippines on the National Oil Spill Contingency Plan (NOSCP) from 4th - 6th October 2017.
The workshop, organised by IMO, GI SEA / IPIECA and the Philippine Coast Guard (PCG), was attended by around 70 officers from different PCG units across the country, officers from other public sectors, as well as representatives from shipping, the oil industry and spill responders.
Dr Ann Zhang attended the workshop and presented on a range of topics including management of shipping incidents; claims and compensation for oil spills; and opportunities and challenges for dispersant use. ITOPF also participated in discussions at the workshop and a desk-top exercise which tested notification procedures, resource deployment, dispersant policy, etc as prescribed in the draft NOSCP.
The draft plan is currently out for public consultation before it receives final official approval.
Categories: Asia, Training & Education