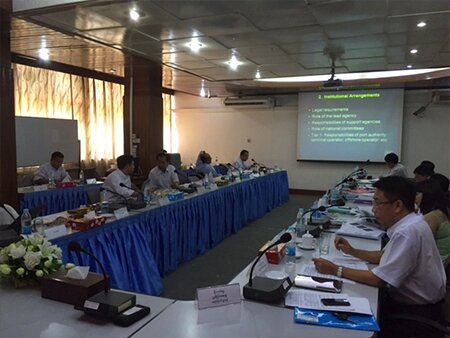 Dr Annabelle Nicolas-Kopec participated in a national contingency planning workshop in Yangon, Myanmar, arranged under the remit of the IMO Technical Assistance Programme and organised by the Ministry of Transport of Myanmar from 25-29 April 2016.
This introductory workshop aimed to lay the basis for the development of a National Contingency Plan (NCP) and a Yangon River Oil Spill Contingency Plan (YRCP) as well as establishing a task force in charge of working on the contingency plan drafts.
ITOPF gave presentations on claims and compensation, as well as a number of technical topics, to the workshop which comprised about 25 delegates from various governmental agencies as well as industrial stakeholders.
Following this workshop, the Ministry of Transport established an agenda for the development of the contingency plans, and it is anticipated that a further workshop will take place with assistance from the IMO once drafts have been completed.
Categories: Asia, Training & Education