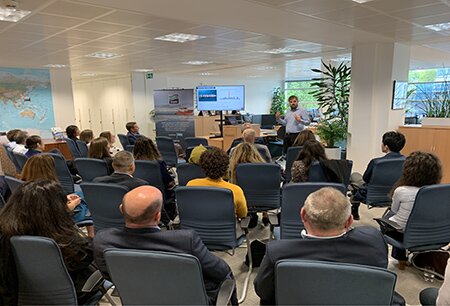 ITOPF welcomed the IOPC Funds team to its offices for a day of networking, presenting and sharing experience on recent case studies.
Hosted at its London office, ITOPF team members delivered a presentation on the role of the company and its technical services within the shipping and maritime industry.
IOPC Funds also gave presentations on its functions and how it operates, with an introduction to its new Director, Gaute Sivertsen.
Amongst the other presentations on recent case studies, ITOPF also gave an update on digital information and communication activities and VR training.
Speaking on the day, Oli Beavon, Managing Director for ITOPF said: "We were so pleased to welcome back the whole of the IOPC Funds team to our offices for what was an excellent day of networking.
"It was a pleasure to introduce myself and new members of the ITOPF team to those at the Fund, as well as having Gaute here to introduce himself to our team.
"There was a hub of activity and conversation throughout the day and into the evening covering many topics and we look forward to welcoming IOPC Funds back again."