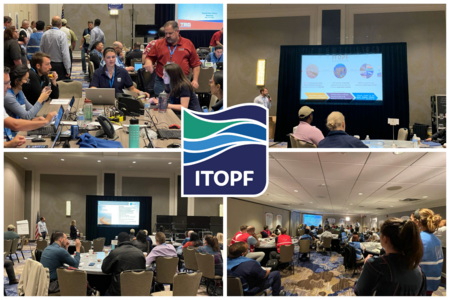 The 2022 JCERTT event took place in New Orleans with more than 700 delegates joining from across the globe.
ITOPF were in attendance delivering multiple presentations, assisting and taking part in training sessions including, Cross-Functional Spill Response Training, Crisis Management Adviser Training and IAP Software Training.
The travelling team from the spill response company provided support during one of five oil spill scenarios, 'Shipping and Pipelines'. During the exercise ITOPF was embedded within the Environmental Unit of the Incident Command System (ICS) and worked alongside the Operational Unit.
Oli Beavon, Managing Director for ITOPF joined his team later in the week and said, "This is another great example of being able to carry out these important exercises, making sure every one of us in the industry is performing at our best.
"It's also a brilliant opportunity to reconnect with those we have missed throughout the last two years, and to showcase our expertise when taking part in and leading these exercises and presentations."
JCERTT was attended by representatives from the US Coastguard, Environmental Protection Agency (EPA), National Oceanographic and Atmospheric Administration (NOAA), Louisiana Oil Spill Coordinator's office (LOSCO), Oil Spill Response Limited (OSRL), and Marine Spill Response Corporation (MSRC).