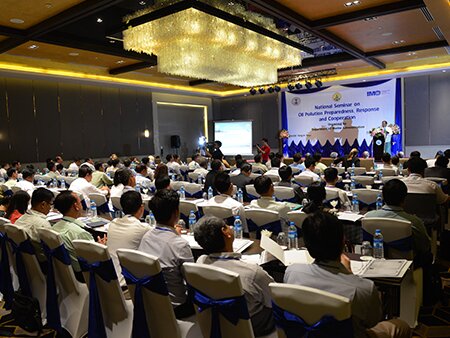 ITOPF was one of the participating organisations at a national seminar organised by the Department of Marine Administration, Ministry of Transport and Communications of the Republic of the Union of Myanmar from 29-30 March 2017.
The primary objective of the seminar was to provide assistance to the concerned ministerial departments on the development of the national oil spill contingency planning framework, strategies and policies, including implementation of existing relevant national legislation and international treaties.
Myanmar's NCP is currently being developed with the assistance of the Norwegian Coastal Administration (NCA) under their Oil for Development programme. Dr Franck Laruelle provided input on the process and components for developing contingency plans, the fate and behaviour of oil after spillage, case studies in the South East Asia region and an overview of response organisation and funding worldwide.
Categories: Asia, Training & Education, Contingency Planning & Advice