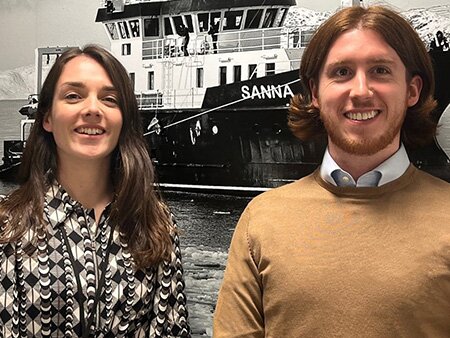 ITOPF has welcomed Amy Jewell, Technical Adviser, and Joe Lane, Communications Officer, to the team in January.
Amy joins ITOPF following the submission of her PhD in Paleoclimate & Geochemistry at Southampton University, where she also completed an MSci in Oceanography with French.
During Amy's PhD research, she spent time aboard the RRS Discovery in the Southern Ocean carrying out piston-coring and seismic survey operations and has travelled across Europe, USA, Canada, Australia and Chile for her studies.
Joe joins ITOPF having previously worked in the water industry for five years. His experience as a communications officer covers internal, external, digital and crisis communications.
Acting as a STEM ambassador for the water industry, Joe organised and spoke at numerous schools across the South East of England, engaging thousands of students in workshops.