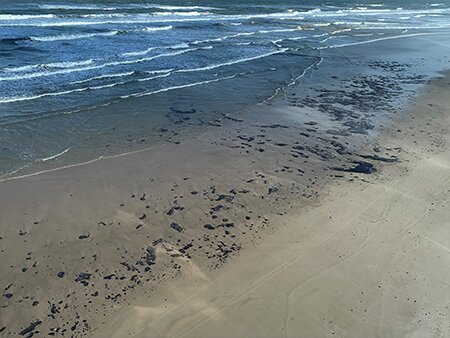 ITOPF is currently on-site in north-east Brazil attending the recent oil spill that has contaminated approximately 2,500 km of coastline in nine states. The source of the pollution remains unknown, although the Brazilian government has recently reported that they suspect a tanker passing along its coast in late July as being the polluter.
Our involvement was requested directly by IBAMA, the Brazilian Institute of Environment and Renewable Natural Resources, on 16th September 2019, a couple of weeks after oil was first spotted washing up on shore. ITOPF is normally requested on-site by a shipowner or their insurer, but in the case of an unattributed spill, we would not have been involved without this proactive approach. ITOPF is well known to the Brazilian authorities and has developed good working relationships with them over recent years, supporting numerous initiatives to promote effective preparedness and response to oil and chemical spills and help build national capacity to deal with pollution incidents.
We initially provided advice remotely from London, primarily on trajectory modelling and reviewing satellite imagery, and soon after travelled to Brazil. Our role on site has been to assist IBAMA, the Brazilian Navy and clean-up teams, helping to determine the scope and severity of the pollution and offering advice on the best methods and techniques to clean up. On a practical level, this has included the production of a series of Technical Guidance Notes on key activities, as aids for the clean-up operatives led by the local municipalities, and developed an online form for systematically reporting new oiling of the shore. We have jointly surveyed the contaminated coastline with the authorities, both in the air and on the ground, and provided daily advice to the central command. The national contingency plan has been activated and there are a number of entities, including the Brazilian state-run oil company, Petrobras, helping with response efforts.
In general, the response has been going well given the challenges of responding to an oil spill over such a long stretch of shoreline, the large quantities of oil arriving on the shore, and the lack of experience of many of the people involved. Clean-up has been primarily undertaken by workers employed by the local municipalities and volunteers, together with personnel from the Navy, Army and Petrobras. Oil is continuing to come ashore and the response teams are co-ordinating to address this.
We regret that due to the high level of media and public interest in this case, we do not have the capacity to answer all enquiries.
Category: Americas