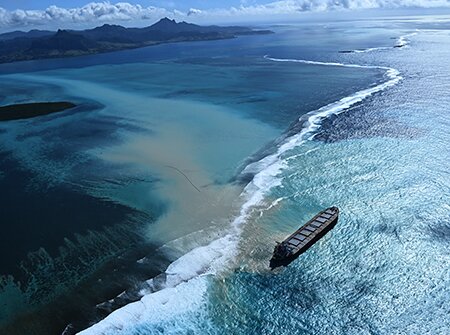 ITOPF is travelling to Mauritius to provide on-site technical advice and help coordinate response efforts to combat the oil spill that is contaminating shorelines on the south-east coast of the island.
The source of the oil spill is the bulk carrier WAKASHIO (GT 101,932) which ran aground on 25th July on a coral reef off Pointe d'Esny. The vessel was in ballast at the time of the incident, carrying approximately 3,900 tonnes of low-sulphur fuel oil as bunkers, 207 tonnes of marine gas oil and 90 MT of lube oil.
The grounding occurred in an environmentally sensitive area, near to a marine park and wetland sites of international importance. It is also a popular tourist destination.
Early salvage efforts were hampered by sea conditions at the reef, combined with the logistical challenges of getting equipment and personnel to site under COVID-19 restrictions.
Initial concerns focused on assessing damage to the underlying coral reef as the vessel shifted with heavy swells in the surf zone. At this stage, ITOPF provided remote advice to the vessel's insurer on the mitigation of reef damage as well as other potential pollution concerns.
In view of the risk of an oil spill, the National Oil Spill Contingency Plan was activated by the Ministry of Environment, Solid Waste Management and Climate Change. ITOPF provided remote support to the incident response team with trajectory modelling and technical advice on booming arrangements to protect sensitive coastal habitats.
On 6th August, after a prolonged onslaught from rough seas, the vessel suffered damage to its hull and approximately 800-900 tonnes of fuel oil has to date leaked from a breached tank and drifted into the lagoon surrounding Pointe d'Esny. Oil has since come ashore at various locations around the Baie de Grand Port, including areas of mangrove. On 7th August, a state of environmental emergency was announced and regional and international assistance has been sought by the government of Mauritius.
Shoreline clean-up is on-going using a local contractor. Many volunteers using make-shift booms have also come out to support response efforts.
Operations to stabilise the vessel and pump off the remaining fuel oil on board are also on-going. Approximately 2,150 m3 have reportedly been removed as at 11th August.
ITOPF is providing advice on the mobilisation of additional equipment and personnel from overseas to support the shoreline clean-up operation. It is also advising the insurer, contractor and government on specific technical matters.
We regret that due to the high level of media and public interest in this case, we may not have the capacity to answer all enquiries.
Categories: Oil, Bulk Carrier, Spill Response