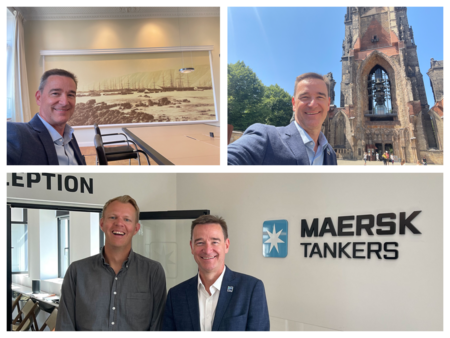 Managing Director, Oli Beavon visited several ITOPF Directors as he continues to foster and strengthen the relationships between ITOPF, the organisations represented on its Board of Directors, and the Directors themselves.
Oli began his tour with a trip to Hamburg to meet with Niko Schües and Hannes Thiede, of Reederei F. Laeisz. Niko is also Chair of BIMCO.
He then made a visit to ITOPF Director Claus Grønborg, CEO at Maersk Tankers.
It was their first meeting since Oli's appointment as Managing Director. Oli gave an update on our activities and strategy, looking at all aspects of spill preparedness and response. They discussed the new technologies emerging in the shipping industry and what changes they may bring, as well as how ITOPF and Maersk Tankers can adapt to a more sustainable future.
Oli concluded his tour in Antwerp meeting with ITOPF Director and COO of Euronav, Captain Alex Staring. The pair discussed the case of the FSO Safer and the trends emerging on low sulfur fuel oils, and what's on the horizon for the industry overall.