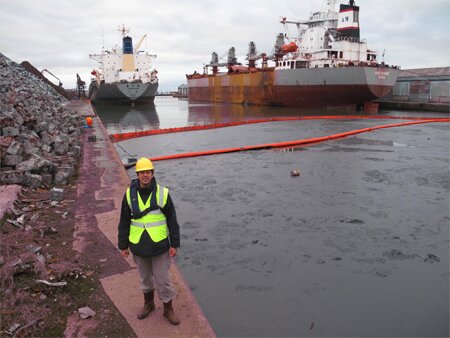 ITOPF has recruited four new Technical Advisers who'll be joining the team over the next three months.
David Campion will join in November. David has a master's degree in tropical coastal management. He has previously worked in fisheries and coral conservation and most recently was Group Director for Corporate Social Responsibility for a hotel group in the Maldives, Thailand and Vietnam.
In December we will be joined by Jessika Fuessel and Anne Réglain. Jessika has a PhD in biogeochemistry and has recently been working as a postdoctoral researcher in the Department of Bio‐Geosphere Interactions in Bremen, Germany.
Anne has a master's degree and has previously worked for an NGO in Vietnam drawing up a feasibility report for the development of an eco-island resort. For the last two years she has been the Total secondee to IMO's Regional Activity Centre for the Caribbean, REMPEITC.
Romain Chancerel will be starting at ITOPF early in the New Year. Romain has an MSc in engineering in the coastal environment and is currently working for the United Nations Environment Programme as an Assistant to the Co-ordinator of the Abidjan Convention. He has previously worked at IPIECA and OSRL.
Other staff news: - Dr Henk Renken, a Technical Adviser since 2009, left ITOPF in October to join BP as an Oil Spill Preparedness and Response (OSPR) Senior Technology Advisor.
During his time at ITOPF, Henk attended almost 20 incidents. These included the MSC CHITRA, a spill of heavy fuel oil and containers in India, and the grounding of the cruise ship COSTA CONCORDIA, where he provided advice to the shipowner and Italian authorities on pollution-related issues. He also presented at numerous training courses and seminars and was part of the ITOPF Arctic Working Group.
We wish Henk well in his new position and look forward to working together on collaborative projects in the future.