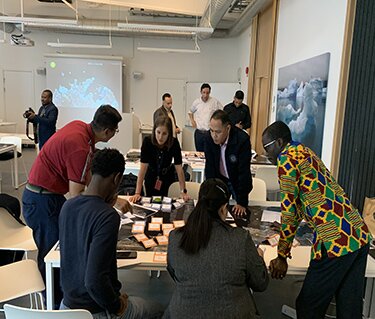 As part of our continued outreach programme, we visited the World Maritime University (WMU) in Malmo, Sweden to deliver training exercises and presentations to Masters students.
Our travelling team of Technical Advisers, Lauren Fearenga and Natalie Kirk, were on hand to deliver presentations covering the role of ITOPF, the fate and behaviour of oil during a marine spill and effective response techniques.
The afternoon saw the students take part in a tabletop pollution event exercise, with the task to arrange and effectively manage resources in a spill scenario, using their learnings from the morning to guide them.
Speaking on the event, Lauren Fearenga, Technical Adviser said: "We'd like to thank WMU for inviting us to their site in Malmo to deliver these talks and exercises.
"Its always great to have the chance to speak with those studying the industry and showcase our experience in effective spill response."
We were able to present the course in-person to students for the first time in two years, which allowed us to deliver the spill response exercise using our Virtual Reality (VR) aerial experience.
During the VR experience, the students must decide on the type of aircraft suitable for the journey and look for signs of oil on the water as they take to the virtual air, reporting back their findings to their command centre