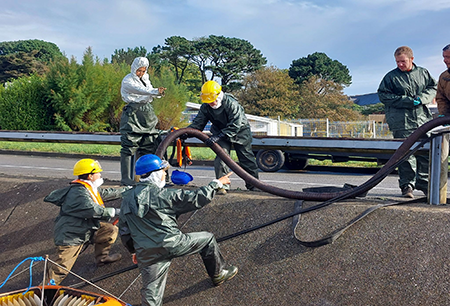 As part of our commitment to continual personal development and ensuring equal opportunities for our team, a technical and non-technical, all-women cohort travelled to Cedre's facilities in Brest, France for a week of knowledge sharing, training, and experience exchange.
Over the course of the week, they took on the deployment of spill response equipment and observed a range of response techniques, such as flushing and high pressure washing, on various shoreline types.

The team toured Cedre's equipment stores for a history on how spills have been tackled throughout the years and viewed the work Cedre undertakes in its onsite laboratory. The week ended with a mock spill scenario in Cedre's contained facility.

The Technical Advisers of the group then travelled on to visit Le Floch Dépollution at its headquarters, where they discussed the joint onsite experience from previous cases and our most recent work on the PRINCESS EMPRESS incident in the Philippines. The team then took a tour of Le Floch Depollution's warehouse to view response equipment which had freshly returned from the Philippines.

A series of presentations were held including an update on Le Floch Depollution's work and keen discussion was had on how we've worked with one another in the past, and how we can develop this working relationship when attending pollution incidents in the future.