Lauren Fearenga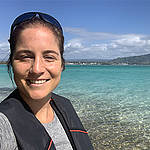 Qualifications & previous experience
I completed a BCs (Hons) in Biology and Animal Behaviour at the University of Exeter in 2012 and then did an MSc (by research) in Biology in 2014, looking into the impacts of anthropogenic noise on coral reef fish communities. I worked as an Ecological Consultant for approximately five years before joining ITOPF as a Technical Adviser in 2019.
Why did you apply for the job?
The job description combined many of my ideals for a career, including working in science and with people, travel, and being challenging.
What sort of things have you been doing since joining ITOPF?
I have been lucky enough to be mobilsed for a few spills since joining. This has involved remote island spills as well as spills in ports, across the northern and southern hemisphere. Outside of spill response, I have taken part in training exercises and awareness-raising events for ITOPF.
Any surprises?
I think the job description closely matched the job I have been working in for the last 18+ months.
What has been the highlight so far?
Being given the opportunity to work on a remote island in Indonesia, where only a handful of westerners have been recently (it took five days of travelling to reach the island). That was an amazing experience, and working for ITOPF provided this chance.
What are you looking forward too in the job?
I look forward too continuing to provide technical advice in the event of a ship-source marine spill, and I particularly look forward to working with differentgovernments, agencies and organisations to aid an effective response. I enjoy the opportunity to travel and work in different countries, learning and experiencing the nuances of working with different cultures.