Shania Hughes - Technical Support Coordinator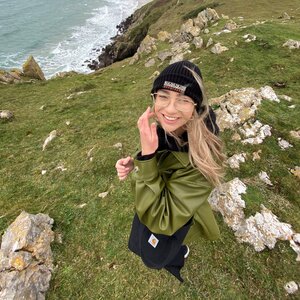 What's your role at ITOPF, what can you tell me about the work you and your team do?
I am a Technical Support Coordinator at ITOPF. My role is broadly to enable the delivery of ITOPF's key technical services, primarily through provision of technical support within the Technical Team, which includes claims work and providing advice on pollution response resources.
Before you joined ITOPF, what did you do?
Before joining ITOPF in November 2022, I studied for my MSc degree in Environmental Hazards at Cardiff University. My research assessed the potential impacts of future oil spills along the coast of the Irish Sea, a busy, yet poorly studied part of NW Europe. This is where ITOPF's online resources proved to be invaluable.
What attracted you to the company and your role?
I came across ITOPF's Technical Information Papers (TIPs) during my research and this was my first introduction to the company. From there, the company appealed to me because it is one of the few organisations that combines my interests in environmental science, risk management and the modelling, mapping, and monitoring of oil spills.
As I explored more of its website, I found a careers page in which the role for Technical Support Coordinator was advertised – and the rest is history!
What has your career been like at ITOPF since joining?
Since joining, I've been exposed to a wealth of knowledge, communicated to me through regular internal and external training sessions and the experience of my colleagues.
I have created and updated some of the technical resources on ITOPF's website, which has been great to contribute to some of the same resources I used during my studies.
After throwing myself into claims assessment work, I now understand no day is the same at ITOPF, every pollution event is unique and presents its own set of complexities, accompanied with new lessons learnt.
What highlights have you enjoyed so far?
I've had the opportunity to travel internationally with ITOPF already, allowing me to gain a hands-on experience with all the technical aspects that contribute to a claims assessment.
Additionally, the trip strengthened my understanding of the shipping industry and allowed me to engage with local correspondents and surveyors, giving me greater insight into the challenges and solutions of claims assessment work.
What's next for you at ITOPF and what are you excited to work on?
I'll continue to work on updating online resources, such as the Country Profiles. These profiles are full of important information on local authorities and spill responders in many countries which we, and other industry stakeholders use. I will also continue my claims assessment work, which encompasses a large proportion of my daily workload.
I'm most looking forwards to assisting with modelling, mapping, and monitoring work, as well as attending some upcoming training courses.