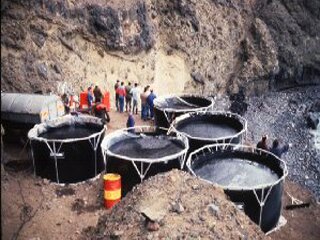 Incident
On the 29th December, 1989, whilst under tow following steering gear failure, the Spanish tanker ARAGON (238,959 DWT, built 1975) suffered heavy weather damage some 360 miles off the coast of Morocco. This resulted in the loss of about 25,000 tonnes of Mexican Maya crude from the No.1 centre tank.
The oil drifted in a south westerly direction, arriving after three weeks in a highly emulsified state at the east coast of Porto Santo, a small island to the north of Madeira. Porto Santo has the only golden sand beach in the Madeira archipelago with an important associated tourist industry.
Response
Due to the lack of clean-up equipment on the island and limited resources in mainland Portugal, the Portuguese authorities were unable to respond to the large amounts of oil present and called for international assistance. A task force assembled by the European Commission from several Member States provided resources that were transported to Porto Santo in aircraft chartered by the vessels' P&I Club.
Heavy-duty pumps were used to remove bulk oil trapped against shorelines, assisted by local manual effort. The high viscosity of the oil, the poor access to shorelines and the logistical problems in transferring collected oil from the beaches to temporary storage facilities on cliff tops, meant some 15,000 tonnes of oil was removed over a period of seven weeks. Final clean-up of the shoreline involved the use of high pressure hot water washing and the limited use of cleaning agents. The recovered oil was transported to the Netherlands for recycling.
ITOPF involvement
ITOPF staff attended continuously on site from December 1989 until March 1990 to oversee the response and revisited the clean-up sites several times in the months following. Staff worked closely with the EC task force to ensure the most appropriate techniques and equipment were selected. ITOPF was involved also in the assessments of claims arising from the incident on behalf of the P&I Club.
Links
Categories: Portugal, Oil, Oil Tanker, Europe