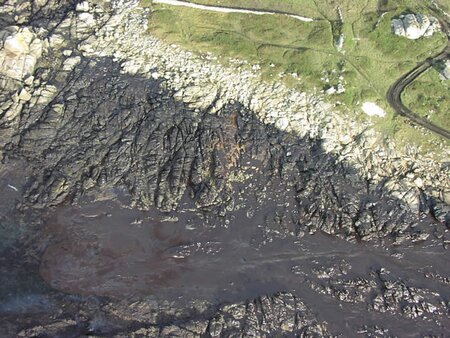 Incident
During the afternoon of Wednesday 13th November 2002, the tanker PRESTIGE, carrying a cargo of 77,000 tonnes of heavy fuel oil, suffered hull damage in heavy seas off northern Spain. She developed a severe list and drifted towards the coast, and was eventually taken in tow by salvage tugs. The casualty was reportedly denied access to a sheltered, safe haven in either Spain or Portugal and so had to be towed out into the Atlantic. Although attempts were made by salvors to minimise the stresses on the vessel, she broke in two early on 19th November some 170 miles west of Vigo, and the two sections sank some hours later in water two miles deep. In all, it is estimated that some 63,000 tonnes were lost from the PRESTIGE.
Owing to the highly persistent nature of PRESTIGE's cargo, the released oil drifted for extended periods with winds and currents, travelling great distances. Oil first came ashore in Galicia, where the predominantly rocky coastline was heavily contaminated. Remobilisation of stranded oil and fresh strandings of increasingly fragmented weathered oil continued over the ensuing weeks, gradually moving the oil into the Bay of Biscay and affecting the north coast of Spain and the Atlantic coast of France, as far north as Brittany. Some light and intermittent contamination was also experienced on the French and English coasts of the English Channel. Although oil entered Portuguese waters, there was no contamination of the coastline.
Response
A major offshore cleanup operation was carried out using vessels from Spain and nine other European countries. The response, which was probably the largest international effort of its kind ever mounted, was hampered by severe weather and by the inability of those vessels that lacked cargo heating to discharge recovered oil. Over a thousand fishing vessels also participated in the cleanup in sheltered coastal waters and during favourable weather. As some of the oil moved into French waters, control of a reduced at-sea recovery operation passed to the French authorities. The Portuguese authorities also responded at sea. The combined activity reportedly recovered ~50,000 tonnes of oil-water mixture.
Despite the enormous effort at sea and the extensive booming of estuaries and sensitive areas with over 20km of boom, extensive coastal contamination occurred. Altogether, approximately 1,900 km of shoreline were affected. The shorelines of Spain were largely cleaned manually by a workforce of over 5,000 military and local government personnel, contactors and volunteers. The process was slow, especially in rocky areas where access was difficult. A further problem was re-oiling of previously cleaned areas by remobilised oil. On the French Atlantic coast beach contamination took the form of numerous tar balls which were relatively easy to remove. In total, some 141,000 tonnes of oily waste was collected in Spain and 18,300 tonnes in France.
Fisheries exclusion zones were put in place in Galicia shortly after the incident, banning virtually all fishing along about 90% of the coastline. All bans had been lifted by October 2003. The impact on fisheries in France was less extensive. In both countries, an impact on tourism was reported for 2003.
The Spanish authorities decided to remove the oil remaining in the wreck. The work commenced in May 2004 using bespoke shuttle tanks and was finalised in September 2004, at an estimated cost of some €100 million.
The incident qualified under the Civil Liability and Fund Conventions. The vessel's P&I Club and the 1992 International Oil Pollution Compensation Fund established a joint claims office in La Coruña to facilitate the receipt and handling of claims in Spain. Payments for compensation to France, Spain and Portugal are expected to reach the Fund limit of £171 million. Legal proceedings in Spain and France are on-going.
ITOPF Involvement
Three ITOPF staff were mobilised immediately to Galicia by the vessel's P&I Club and the IOPC Funds to establish the extent pollution damage and to advise on appropriate response activities. Numerous flights were made over the sinking location and affected shorelines and meetings held with government authorities and potential claimants. As the extent of the pollution widened, additional staff attended on-site in Spain and in France. Further staff worked with a teams of surveyors in Spain and France to monitor the response and fisheries. ITOPF attended on-site until July 2003. Additional work to assess clean-up and damage claims for the P&I Club and IOPC Fund has required further intensive effort from ITOPF staff, and is on-going in 2014.
Selected Bibliography
Albaiges, J., Vilas, F., Morales-Nin, B. (2006). The Prestige: A scientific response. Marine Pollution Bulletin, Volume 53, Nos 5-7, 2006
Guillen, A.V. (2004). Prestige and the law: regulations and compensation. Proceedings of the 17th Annual Conference Oil Pollution 2004. Claims Handling and Cleanup Response, London, 15-16 March 2004. Lloyd's List Events, London, UK
Lorenzo, F.A. (2004). Clean-up, including some innovative solutions. Proceedings of the 17th Annual Conference Oil Pollution 2004. Claims Handling and Clean-up Response, London, 15-16 March 2004. Lloyd's List Events, London, UK
Rodriquez, X.N. (2004). Effects of the oil spill from the Prestige on the environment and its subsequent regeneration. Proceedings of the 17th Annual Conference Oil Pollution 2004. Claims Handling and Clean-up Response, London, 15-16 March 2004. Lloyd's List Events, London, UK
Links
Categories: France, Spain, Oil, Oil Tanker, Europe, Economic effects