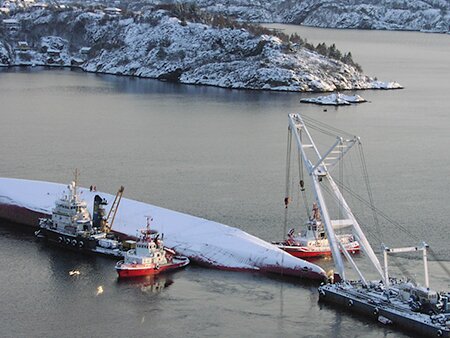 Incident
On 19th January 2004, the specialised bulk carrier ROCKNES (17,765 GT; 2001 built) laden with a cargo of rock ran into difficulties near Bergen, Norway and capsized, claiming the lives of 18 crew members. The vessel had on board 466 tonnes of Intermediate Fuel Oil (IFO 380) and 78 tonnes of marine diesel as well as lubrication oils. Approximately 200 tonnes of IFO 380 was spilled, and spread up to 10 NM from the incident site.
Response
Oil recovery at sea was conducted by the Norwegian Coastal Administration, using specialised skimming vessels, while shoreline clean-up was coordinated by the local authorities. Shoreline oiling was localised and largely limited to a number of small bays. Other areas of the intertidal zone, mainly in the vicinity of the vessel, were affected by a 50 cm wide band of oil. There were a number of salmon farms in the area but only two reported traces of contamination of their equipment. No impacts on fish stocks were observed at any of the farms. Other impacts included oiling of small leisure craft, moorings and several small boat marinas.
ITOPF Involvement
ITOPF was requested to attend on site by the P&I Club, and assisted the Norwegian authorities, P&I representatives and the salvage team in the preparation of the contingency plans and booming arrangements necessary to avoid further contamination during the relocation of the vessel and subsequent repair works at a local shipyard.
Categories: Norway, Oil, Bulk Carrier, Europe