Alex
Hunt
Technical Team Manager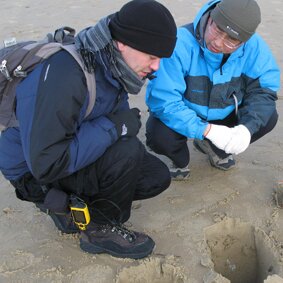 Alex is a Chartered Biologist (CBiol), a Fellow of the Royal Society of Biology (FRSB) and Member of the Marine Biological Society (Mem.MBA) with a degree in marine biology and an MSc in Tropical Coastal Management. Since joining ITOPF in February 2004 he has attended on site for numerous shipping incidents of various scales in more than 20 different countries and all seven continents. These include major tanker spills such as the SOLAR 1 in the Philippines in 2006 and the HEBEI SPIRIT in South Korea in 2007, along with high profile incidents involving bunker oil such as PACIFIC ADVENTURER in Australia in 2009, GOLDEN RAY in the USA in 2019 and WAKASHIO in Mauritius in 2020. He has also attended spills from offshore installations in the Caspian Sea and Newfoundland.
In addition to his on-site work, Alex has coordinated technical advice on contingency plans for government and industry, and has been a speaker and session chair at conferences, workshops and seminars worldwide. As Technical Team Manager for the Asia Pacific Team, Alex has a particular focus on oil and chemical spill preparedness projects and advisory work within this region.
Previous Experience
Prior to joining ITOPF in 2004, Alex had a background in coral reef research and habitat damage assessment work. Between 1998 and 2003 he worked as a researcher and project coordinator on marine habitat mapping and coastal management programmes in Indonesia, the Philippines, Nicaragua and Puerto Rico.
Languages
English (native)
Spanish (basic)
ITOPF Working Groups
Alex is part of the Environmental Damage Working Group and is a focal point within ITOPF for advice relating to ship groundings on coral reefs and other sensitive habitats. He has also acted as project manager for the production of ITOPF's Response to Marine Oil Spills Series of seven educational films in 2014.