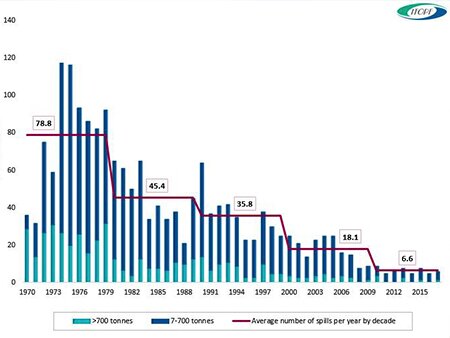 Statistics for oil spills from tankers for close to five decades show a progressive downward trend. The average number of spills greater than, or equal to, 7 tonnes in size has continuously reduced and, since 2010, averages around 7 per year. When we look at large spills, i.e. greater than 700 tonnes, the yearly average, which was around 25 in the 1970s has reduced dramatically to less than 2 since 2010.
Download a graph showing the number of large (>700 tonnes) and medium (7-700 tonnes) spills recorded from 1970 to 2017.
In 2017, two tanker incidents resulting in spills of over 700 tonnes were reported. The first occurred in the Indian Ocean and the second, which ITOPF attended on site, occurred in the Aegean Sea. Four medium sized spills (7-700 tonnes) were also recorded in 2017.
The estimated total amount of oil lost to the environment through tanker incidents in 2017 was approximately 7,000 tonnes, the majority of which can be attributed to the two large incidents mentioned above.
Despite an overall increase in oil trading over the past few decades, it is reassuring to note that oil spills involving tankers have decreased significantly meaning that some 99.99% of oil transported by sea arrives safely at its destination. However, accidents still happen, as demonstrated on 6th January by the tragic incident that occurred off the coast of China involving the oil tanker SANCHI. Learning lessons from incidents such as these will assist tanker owners and governments to continue to work together to reach the highest level of safety and environmental stewardship.
For further information, please visit our statistics page.
Category: Publications