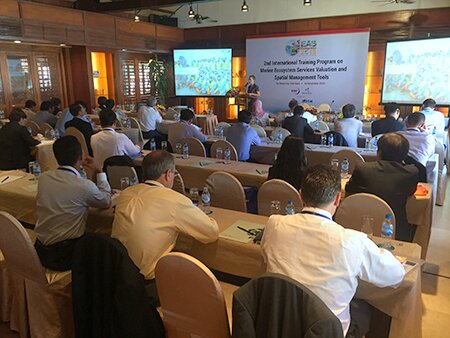 Alex Hunt and Jessika Fuessel participated in the East Asian Seas (EAS) Congress hosted by the Government of Vietnam and co-organised by PEMSEA (Partnership in Environmental Management for the Seas of East Asia) and the Vietnam Administration for Seas and Islands (VASI) of the Ministry of Natural Resources and Environment (MONRE) in Da Nang, Vietnam. The main focus of the EAS Congress is to promote progress of the implementation of the Sustainable Development Strategy for the Seas of East Asia (SDS-SEA) that was adopted by 14 East Asian countries between 2003 and 2006. This year's congress carried the theme "Global Targets - Local Benefits: Setting the Sustainable Development Agenda for the Seas of East Asia beyond 2015". Within several workshops and seminars the congress aimed to facilitate exchange between national competent authorities, industry organizations, NGOs and international experts.
ITOPF co-convened a seminar on "Recent Developments and Trends in Oil Spill Preparedness, Response and Compensation" during which Jessika Fuessel provided an overview of trends in oil spills from tankers over the last 45 years and spoke about the development of an effective oil spill response strategy based on ITOPF's extensive on-site experience. Other speakers included Shahreena Shahnavas, OSRL, Nguyen Huy Trong, Vietnam National Southern Oil Spill Response Centre (NASOS), Jose Maura, IOPC Funds and Philip Ruck, IPIECA. Shahreena Shahnavas explained the oil industry's approach to oil spill contingency planning which was complemented by an introduction to IPIECA's contribution to industry collaboration on oil spill response preparedness and response. Mr Nguyen Huy Trong gave an overview of Vietnam's approach to enhancing oil spill readiness at a local level, introducing the four response centres located along the Vietnamese coast in Da Nang and Khanah Hoa in central Vietnam, Hai Phong in Northern Vietnam and Vung Tau in Southern Vietnam. The benefits of becoming signatory to the Fund Convention were set out by Jose Maura, the Director of the IOPC Funds, while referring to several case studies.
During a separate workshop on "Maritime Sector Contributions to a Blue Economy for the Seas of East Asia" representatives from IPIECA, Vietnam Seaports Association, Chevron, IOPC Funds, OSRL, GIZ (German Society for International Cooperation) and ITOPF took part in a panel discussion on key aspects in promoting a sustainable maritime industry. The workshop started with an overview provided by Alex Hunt on "Recent Developments and Emerging Trends in Shipping Incidents" and was followed by talks from other panellists that covered various aspects of preparedness, response and compensation of shipping incidents in East Asian Seas. In addition, preparedness initiatives by the oil and gas industry were discussed, along with joint initiatives between government and industry (the Global Initiative for South East Asia) and projects within regional ports with a focus on environmental sustainability. Speakers and panellists included Brian Sullivan, Executive Director of IPIECA, Jose Maura, Director of IOPC Funds and Darren Waterman, OSRL's Asia Pacific Regional Director. Presentations on national initiatives related to sustainable development of ports and maritime trade within the Philippines, Thailand and Vietnam were also provided by representatives of national governments. National competent authorities for maritime emergency response from ASEAN countries were represented amongst the delegates and several issues in relation to contingency planning, employment of volunteers during oil spill response operations and challenging aspects of cross-border incidents were discussed during the session.
Categories: Asia, Training & Education