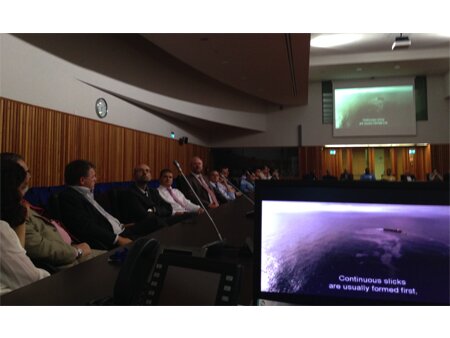 ITOPF was pleased to be invited by EMSA (European Maritime Safety Agency) to screen the "Aerial Surveillance" film in the award winning Response to Marine Oil Spills series. The screening in Lisbon was linked to EMSA's training course for 50 representatives from EU Member States on "The use of surveillance systems for marine pollution detection and assessment".
Berndt Bluhm, Head of Unit, Pollution Response at EMSA said in the discussion following the screening that "the film makes an important contribution to keeping at the forefront of people's minds the essential role aerial surveillance plays in responding to marine spills which is key at times where budgets are tight across Member States."
"Yes indeed" agreed Dr Tim Lunel of ITOPF "we also hope that the film will prompt other regions in the world which are yet to put in place dedicated aerial surveillance aircraft to actively consider the benefits such a resource would bring in reducing potential impacts to their country's coastline. We are very willing to visit countries who would like to hear first hand the advantages aerial surveillance brings to response operations."
Category: Training & Education