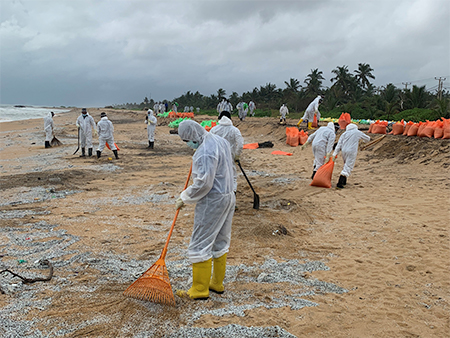 Two members of the ITOPF team are currently on-site in Sri Lanka to provide technical advice on the risk of oil pollution and loss of chemicals, plastics and other cargo from the containership X-PRESS PEARL which caught fire on 20th May.
The casualty remains partially sunk at Colombo anchorage, approximately 10km offshore.
The fate of the bunker fuel on board is unconfirmed, but no oil pollution has been reported onshore. As at 7th June, sheen has been observed emanating from the wreck and this is being investigated.
Burnt debris and assorted container contents have arrived in bulk on shore, contaminating an estimated 150 km stretch of coastline to varying degrees.
The pollutants of particular concern are nurdles, as they have the potential to spread over vast distances and recovery of these small plastic pellets can be difficult and protracted.
Shoreline clean-up operations are being organised by the Sri Lankan Marine Environmental Protection Authority (MEPA), together with the Sri Lankan army and navy, with around 1,000 personnel on-site most days.
A team from OSRL have now arrived in Sri Lanka to provide specialist assistance with clean-up efforts.
MEPA and the National Aquatic Resources Research and Development Agency (NARA) have established an environmental sampling programme to determine the degree and extent of potential impacts from the incident.
ITOPF's involvement
The ITOPF team left quarantine on 3rd June and are operating within a 'bio-secure bubble' due to Covid-related restrictions. Their primary role to date has been to carry out shoreline surveys, including the inspection of fish farms and mangroves, in order to provide an overview of the extent of contamination, and to monitor and report on the progress of the ongoing clean-up operation and identify any potential issues.
ITOPF has participated in discussions with MEPA on current and future response steps and is involved in trialling different techniques for nurdle collection and separation, in collaboration with OSRL. Once the trials are complete, ITOPF and OSRL will produce a clean-up plan for approval by the authorities. ITOPF is also providing guidance on environmental monitoring and is assisting the British High Commission in Sri Lanka in coordinating the UK's response package to support Sri Lanka's appeal for international assistance.
See previous report from 3rd June.
We regret that due to the high level of media and public interest in this case, we may not have the capacity to answer all enquiries.
Category: Spill Response