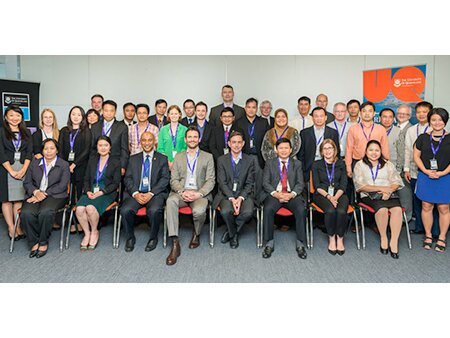 ITOPF was invited by the Australian Maritime Safety Authority (AMSA) and the Australian Department of Foreign Affairs and Trade (DFAT) to participate in a training workshop focusing on trans-boundary spills as part of the Expanded ASEAN Maritime Forum (EAMF) Expanded ASEAN Seafarers' Training (EAST) Initiative. The workshop focused on coordination between countries when an incident affects multiple jurisdictions, as well as international assistance to affected countries, and was attended by senior government officials from twelve different countries, including seven from within the South East Asian region. The three day workshop was co-chaired by Mr Jamie Storrie of AMSA and Mr Le Dai Thang of the Ministry of Foreign Affairs for Vietnam and hosted by the University of Queensland's Marine and Shipping Law Unit in Brisbane, who also provided speakers on key international conventions, including liability and compensation regimes relating to oil spills from ships.
Alex Hunt provided a keynote address on the subject of trans-boundary spills, with a focus on the lessons learned in the 48 years since the TORREY CANYON incident, and he also gave a presentation on international cooperation during spills, with a particular focus on the response to the PRESTIGE incident in 2002. Other speakers included Colleen O'Hagan from the Marine Environment Division of the IMO, who opened the workshop with a keynote address; Captain William Carter, Commanding Officer of the US Coast Guard's National Strike Force Coordination Centre, who discussed lessons learned from the DEEPWATER HORIZON incident; Commador Athelo L Ybanez of the Philippines Coast Guard and Commander Ryoji Hayashi, Director for International Marine Pollution Prevention at Japan Coast Guard, who together discussed the international response to Typhoon Haiyan (Yolanda) in 2013; and Rob Service of Maritime New Zealand, who provided an in-depth presentation on the response to the RENA incident in 2011.
The three day event provided an excellent opportunity for open dialogue examining the existing international, regional and national mechanisms for cooperation during trans-boundary oil spills and exploring possible ways of developing these further to increase preparedness for future incidents.
Category: Training & Education