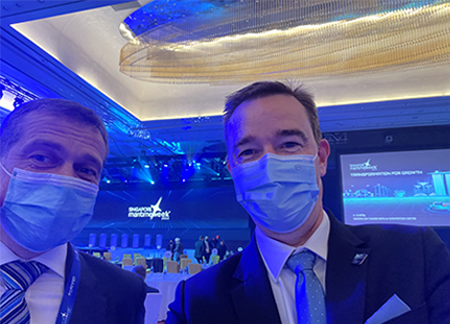 Transformation for Growth was the theme of Singapore Maritime Week (SMW) 2022, hosted and driven by the Maritime and Port Authority (MPA) Singapore.
In collaboration with industry stakeholders, research, and educational institutions, SMW brought together industry leaders through a series of conferences, forums, and exhibitions.
Although the 16th iteration of the event was hosted in a hybrid format, ITOPF attended in-person with Oli Beavon, Richard Johnson, David Cooper and Alex Hunt making the trip.
Speaking on the event, ITOPF's Technical Director, Richard Johnson said: "It was brilliant we were able attend this year's event after a long hiatus of face-to-face networking.
"The event, as always, was extremely well-run and provides a great platform for those in the maritime industry to discuss ideas and help to move us all forward in a positive direction.
"We'd like to thank MPA for hosting the event and we look forward to next year."
Singapore Maritime Week will return in April 2023.