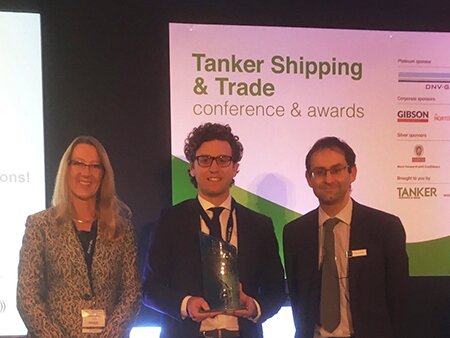 For the second year running ITOPF has sponsored the Environmental Award at the Tanker Shipping and Trade Conference, 15-16 November 2016. This year's accolade went to Selektope®, an antifouling agent pioneered by Gothenburg-based I-Tech.
Presenting the award to the I-Tech Chief Executive Philip Chaabane after the conference gala dinner, Dr Karen Purnell explained that Selektope had pipped the other entrants to the post by "showing the value of sharing knowledge from different sectors, in this case, bringing pharmacology into shipping and specifically, the hull coating sector, and so, providing an innovative solution to one of the many environmental challenges faced by our tanker owner Members"..
Selektope, a coating ingredient, repels barnacle settlement on ships' hulls by temporarily stimulating the barnacle larvae's swimming behaviour. It is distinguished by extremely low biocidal loading and has been approved by Japanese, Korean, Chinese and European regulatory bodies.
The Awards ceremony was organised by Riviera Maritime Media to recognise excellence, innovation, and environmental performance across the tanker industry.
Dr Karen Purnell pictured alongside I-Tech Managing Director Philip Chaabane (centre) and Tanker Shipping & Trade Editor Edwin Lampert
Category: Training & Education