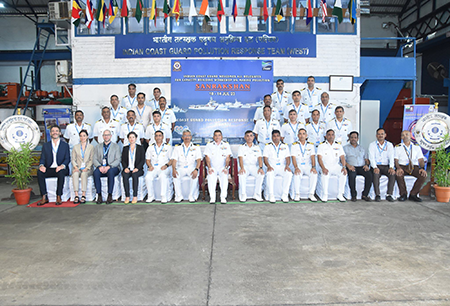 We were delighted to work alongside the INDIAN COAST GUARD in Mumbai to jointly deliver the capacity building workshop 'Sanrakshan' to a group of 20 high-ranking delegates involved in marine environment pollution response.

Over the course of the week, we provided a holistic insight into oil, chemical and plastic spill response, which started with presentations on our role in a pollution incident and included recent case studies of incidents attended by both ITOPF and the Indian Coast Guard.

The week culminated in a table-top exercise where delegates took their learnings and applied them in a mock marine pollution event scenario, dealing with all aspects of a spill from the initial notification to waste management and the claims and compensation processes.

We look forward to exploring opportunities for more collaboration with the Indian Coast Guard in the future on reviewing readiness to Hazardous Noxious Substances (HNS) spill response, workshops on claims and compensation as well as potential research and development opportunities for response to spills of plastic pellets.

With thanks to the Indian Coast Guard for its excellent collaboration throughout the workshop and the delegates who engaged enthusiastically throughout. Special thanks go out to DIG Rajesh Mittal and DIG Pradheep Mandal for organising this event and hosting our travelling team of Alex Hunt, Annabelle Nicolas-Kopec, David Campion and Rachel Rayne.