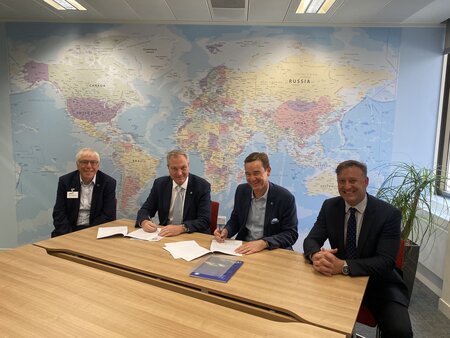 ITOPF and the International Oil Pollution Compensation Funds have signed two agreements stipulating how both organisations will work together during an incident involving a qualifying ship not insured by a member of the International Group of P&I Clubs.
The longstanding relationship between the two organisations has seen many cases over an almost 45 year period in which collaboration has been vital when discussing compensation for spills of persistent oil from tankers in States that are party to the Fund Conventions.
In order to formalise this relationship and promote greater transparency in the working arrangements of the two organisations, a general agreement was signed first in 2017 and has been used successfully for several incidents subsequently, most notably the release of oil from AGIA ZONI II in Greece and from an unknown tanker off the coast of Israel. The agreement provides the terms and conditions under which ITOPF is mobilised by the IOPC Funds to provide technical advice on a pollution response and on pollution damage, both on-site at the time of the response and subsequently during the assessment of claims for compensation.
Revisions to the agreement for 2023 have recognised the availability of new technologies to improve collaboration, with a new separate agreement on general data protection regulations to address sharing of information between the two organisations.
With these two agreements signed, both organisations are committing to the continual review and improvement of the ways they work together.
Managing Director for ITOPF, Oli Beavon said: "We're so pleased to have signed these agreements, securing our collaboration with the IOPC Funds further and building on the lasting and important relationships developed between us over many years of working together."