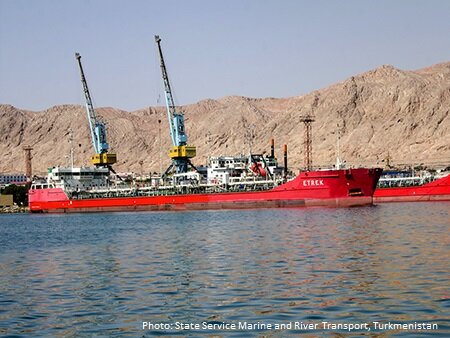 ITOPF participated in a national workshop in Turkmenistan organised by the IMO and hosted by the State Administration on Supervision of Navigation under the State Service of Maritime and River Transportation from 9-11 November. 40 participants attended from both the public and private sectors in Turkmenistan.
The primary aim of the workshop was to provide assistance to the relevant authorities of Turkmenistan in order to increase familiarity with the roles and responsibilities of those tasked with the implementation of the National Oil Spill Contingency Plan as approved by the President of Turkmenistan in 2001.
The workshop was conducted by Mr John Ostergaard (IMO consultant) and Romain Chancerel (ITOPF) who shared ITOPF's experiences of international good practice, making presentations on the cause, fate and effects of spilled oil; liability and compensation; and shoreline clean-up.
The workshop generated discussions and the following recommendations were agreed by participants:-
· to undertake a comprehensive assessment of the risks related to oil spills from maritime transportation and oil and gas activities.
· to identify coastal environmental and socio-economic resources vulnerable to marine oil spills and to develop sensitivity maps summarising those risks as a part of the contingency planning process
· to finalise the ongoing update of the National Oil Spill Contingency Plan of Turkmenistan taking into consideration the ongoing developments along the coast of Turkmenistan.
Categories: Asia, Training & Education