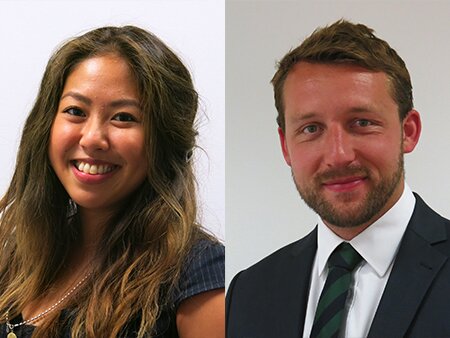 ITOPF has recruited two new technical advisers to join the team.
Nancy Wong graduated in Biochemistry and a holds a PhD in Cellular and Molecular Biology. Prior to joining ITOPF, she worked as a project manager in a global business psychologists firm where she organised and managed worldwide development programmes. She led a team of consultants and coordinated the recruitment and development of executive leaders within the oil and gas, financial, automotive and consumer goods sectors.
Phil Ruck has a BSc (Hons) in Physical Geography and an MSc in Environmental Technology. Before joining ITOPF, Phil spent over four years working for IPIECA, the global oil and gas industry association for environmental and social issues. As part of this role, he was Project Manager for IPIECA's Oil Spill Working Group, an industry forum aiming to improve oil spill preparedness and response around the world by organising capacity building activities and the development of good practice guidance. Phil also worked with IPIECA members on other environmental management issues including biodiversity & ecosystem services and water.