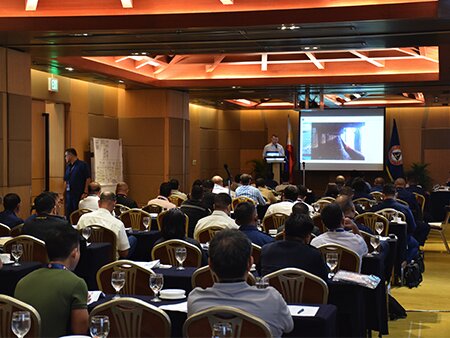 Phil Ruck attended a Philippines National Contingency Planning Workshop in Manila last week. This three-day workshop was organised by the Philippine Coast Guard (PCG) under the auspices of the GI SEA project. Approximately 80 people attended, including personnel from the PCG, other government agencies, oil and gas operators, industry and salvage companies.
The objectives of the workshop were:
To provide participants with an understanding of OPRC 90 obligations;
To familiarise participants with general oil spill response management;
To familiarise participants with the updated Philippines National Oil Spill Contingency Plan (NOSCOP); and
To exercise the participants on oil spill incident management principles as outlined in the NOSCOP.
The workshop was split into two distinct halves: the first day and a half featured technical presentations by GI SEA, Swire Emergency Response Services, OSRL, ITOPF and PCG. ITOPF delivered three presentations on incident management for shipping incidents, claims & compensation for oil spills, and case studies. The presentations were well received and generated a number of questions, particularly with regard to claims and compensation. The second day and a half was a tabletop exercise designed and facilitated by consultants from Swire Emergency Response Services, where ITOPF acted as a technical adviser to the exercise participants.
Further details and photographs from the event can be found on the GI SEA website: http://www.gisea.org/activities/philippines-national-workshop
Categories: Training & Education, Contingency Planning & Advice