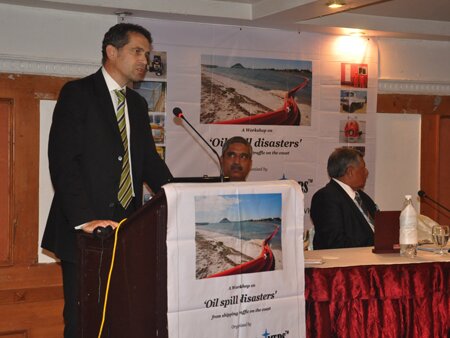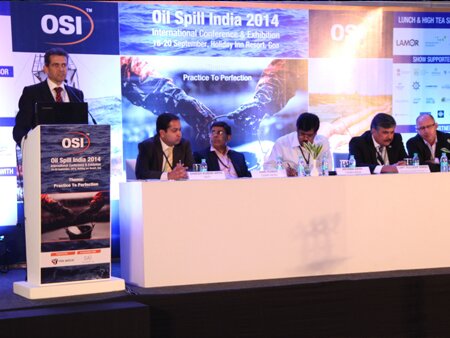 ITOPF is keen to support developments in spill preparedness and response in India, in light of recent spills and a growth in shipping traffic in the area. So we were pleased to be invited to take part in two spill response initiatives in India earlier this month. These gave us the opportunity to promote global good practice, raise awareness of ITOPF's activities and how we can assist in the event of a spill, as well as build closer working relationships in the country.
OSR Workshop Trivandrum, 16 September 2014
ITOPF was invited to attend the Oil Spill Response Workshop in Trivandrum organised by the Institute of Land and Disaster Management in coordination Alpha MERS, a Bangalore based OSRO (Oil Spill Response Organization). The workshop focused on the risk of shipping incidents to the Kerala coastline from both oil and HNS. The keynote address was delivered by Vice Admiral PJ Jacob (earlier Vice Chief of Naval Staff and DG Coast Guard) and the 1st session was chaired by Mr.K.Mohandas (IAS and Retired Shipping Secretary, Govt of India). Richard Johnson gave a presentation on "Ships, Risks and Spills: Is India Ready and Able?" to the audience of 50-60 local delegates.
Oil Spill India 2014, Goa, 18 September 2014
Later that week Richard Johnson presented a paper during the plenary session of the 3rd Oil Spill India Conference and Exhibition in Goa. The theme of the event was "Practice to Perfection". It was organised in association with the Spill Association of India (SAI) and attracted an audience of about 200 delegates. Richard's presentation: "Shipping and Pollution: Risks and Consequences in India" highlighted some of our recent spill experience in the country. The inauguaral session was attended by a number of important dignitaries and the speakers encompassed a range of local and international representatives from government, industry and the response community. Richard Johnson said of the event: "Oil Spill India 2014 was an excellent forum for bringing government and industry together to discuss the challenges India is rising to in regards the risk, preparedness and response to oil spills. I thoroughly enjoyed the exchanges and hope that I have contributed to the subject matter and development in some small way. I look forward to future involvement."
Categories: Asia, Training & Education