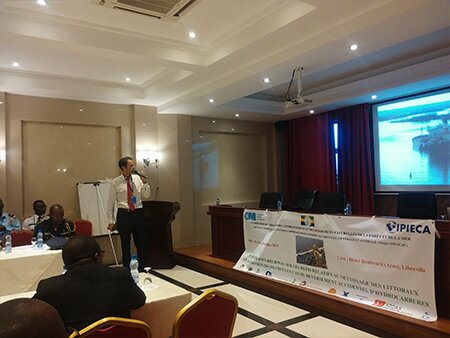 Romain Chancerel participated in an IMO workshop on effective shoreline clean-up and waste management in Libreville, Gabon, hosted by Gabon's Department of Environmental Affairs from 16-18 September.
This regional activity gathered participants from ten French-speaking West African countries, as well as the oil and gas industry. IMO increased attendance by funding the participation of East African countries including Madagascar and Comoros. The aim of this workshop was to discuss the incorporation of effective shoreline clean-up techniques and waste management into national oil spill contingency plans.
Romain presented on the development of clean-up strategies and effective waste management techniques and illustrated his presentations with case studies from ITOPF involvement in ship incidents.
The workshop was organised within the framework of the Global Initiative for West, Central and Southern Africa (the GI WACAF Project), a partnership between IMO and IPIECA, the global oil and gas industry association for environmental and social issues. In November the GI WACAF biannual regional conference will be held in Ghana; Frank Laruelle and Anne Reglain from ITOPF are due to attend.
Categories: Africa, Training & Education