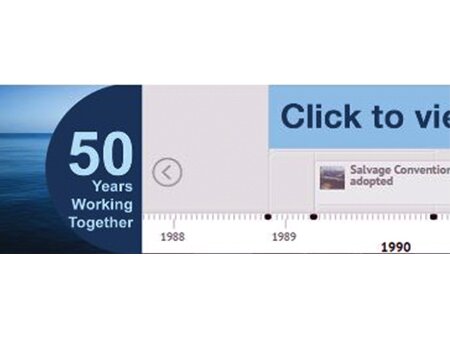 ​An exhibition marking 50 years working together against oil pollution from ships is now available online at http://www.imo.org/en/About/Events/Pages/50-Years-Working-Together.aspx
The exhibition showcases 50 years of successful cooperation between government and industry to achieve a dramatic and sustained reduction in major oil spills from ships; to establish effective systems for preparedness and response if there is an incident and to create a comprehensive mechanism for providing compensation to those affected. It is a story to be proud of.
The exhibition, hosted by the IMO, is a collaboration between IMO, ITOPF and the IOPC Funds, supported by other industry partners.
The online exhibition comprises an interactive timeline, marking the important milestones decade by decade, and a slideshow of the exhibition panels.
The exhibition itself will run at IMO Headquarters in London until 7th July 2017.
The exhibition "50 years of Government and industry working together to address the risk of oil pollution from ships" has been organized by IMO, IOPC Funds and ITOPF, with the support of the International Chamber of Shipping (ICS), the International Group of Protection and Indemnity Associations (IGP&I), the International Petroleum Industry Environmental Conservation Association (IPIECA), the International Salvage Union (ISU), the International Spill Control Organization (ISCO) and the Oil Companies International Marine Forum (OCIMF).
Category: Training & Education