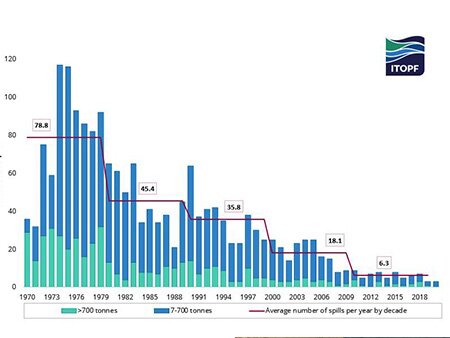 ITOPF's annual statistics of oil spills from tankers show that there were only 3 incidents where more than 7 tonnes of oil were spilt in 2020. The total volume of oil lost in all 3 incidents was approximately 1,000 MT making it amongst the lowest on record. At a time when the annual volume of oil moved by sea is approximately 3 billion tonnes1, this means that the effort to ensure oil cargoes arrive at their destinations safely is paying off.
Using ITOPF's categorisation for sizes of oil spill, there were no large spills (>700 tonnes) in 2020 and the 3 incidents recorded were all categorised as medium spills (7-700 tonnes); with one each occurring in Europe, Africa, and Asia.
During the half century since ITOPF's records began, the frequency of large oil spills (> 700 tonnes) has plummeted such that their occurrence is now a rarity. To report meaningful changes, ITOPF now needs to refer to its lower categorisation of spills, i.e. medium spills (between 7 and 700 tonnes).
The average number of spills greater than 7 tonnes per year in the 1970s was about 79 but this has decreased by over 90% to just 6 in the last decade.
When comparing how the oil was spilt in each decade, it is interesting to note that as the number of oil spills have decreased, the relative proportion of spills arising from allisions and collisions has increased, accounting for around 44% of all oil spills from tankers greater than 7 tonnes. Although accidents regrettably remain a possibility, the shipping industry, supported by governments, continues to strive towards a goal of zero spills, learning lessons from incidents such as these to reach the highest level of safety and environmental stewardship.
It is important to note that although ITOPF attends incidents from tankers and non-tankers, for historical reasons the annual statistics publication only reports incidents involving tankers, combined carriers and barges. Accidents involving non-tank vessels which carry oil as bunker fuel, such as container ships, bulk carriers and general cargo ships, may also be a source of pollution. This was unfortunately demonstrated following the grounding of the bulk carrier WAKASHIO off the coast of Mauritius in July 2020.
See our statistics page for further information.
1 Source: UNCTAD
Category: Information Services