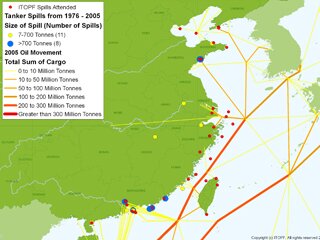 Lisa Stevens (Woolgar)
Paper presented at the 20th Triennial International Oil Spill Conference, Savannah, Georgia, May 4-8, 2008
As the Chinese economy continues to develop at a rapid pace, shipping has also increased significantly over recent years. This rise in traffic brings a greater threat of oil pollution from vessels.
Assessing the risk of oil spills can be a complex process, yet by modelling and analysing the amount of oil transported around coastal areas during 2001 and 2005, using data obtained from Lloyds' Marine Intelligence Unit (LMIU) and comparing it with the historical data from ITOPF's tanker spills database, an improved representation of risk can be made. Using a GIS platform to graphically visualise this information and integrate further datasets regarding local sensitivities we can understand the risk more thoroughly and present the aggregated information more effectively.
In response to the increased risk experienced in and around Chinese waters, ITOPF and other international organisations are working to build awareness of the risks and develop links with key parties through training courses and seminars. By working closely with the Chinese Maritime Safety Administration (MSA) and with the Northwest Pacific Action Plan (NOWPAP), a regional UNEP initiative, the threat of future incidents can be minimised and handled in a rational manner.
This paper looks at the risks associated with increased traffic and developments taking place to meet the threat of marine oil spills in Chinese waters.
Category: Papers