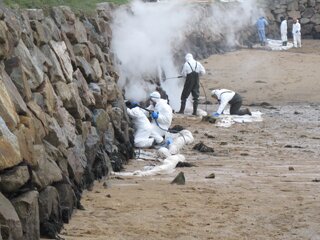 Dr Brian Dicks, Mr Hugh Parker, Dr Tosh Moller, Dr Karen Purnell, and Dr Ian White (ITOPF)

Paper presented at INTERSPILL 2000, A New Millennium - A New Approach to Spill Response, International Conference and Exhibition, 28-30 November 2000, Brighton, UK
Whilst the technical aspects of dealing with an oil spill are clearly important, the effectiveness of the response to a major spill will ultimately depend upon the quality of pre-spill contingency planning and the management of the clean-up operations. Experience shows that these aspects of spill response are often inadequate with the result that spilled oil is not dealt with as effectively as current technology should allow. In particular, the mistakes of previous spills are often ignored.
Outside of the USA and a few other countries, government authorities generally assume responsibility for organising and controlling the clean-up of a major ship-source spill, either using their own resources or those available from private organisations. Although this generally works well, problems can arise because of the fact that oil spill response is not normally a core activity for most government authorities. The organisational structure for responding to oil spills therefore tends to follow administrative structures created for other purposes. This is particularly evident when it comes to shoreline clean-up, where the responsibility usually falls on a multitude of local and regional government authorities, many of which lack the required expertise, experience, resources and funding to organise and control a major clean-up operation.
Based on ITOPF's extensive experience of spill clean-up around the world and quantitative data from recent spills in the UK, France, Turkey and Argentina, the paper will examine the wide range of technical, organisational, logistic and financial problems facing those responsible for managing shoreline clean-up operations. The paper will conclude by proposing some areas in which the management of shoreline clean-up might be improved.
Categories: Response Techniques, Papers